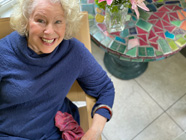 Michelle Soulé
Artist's Statement

Paintings "Abstract Botanicals"
My work comes from the intuitive and explores the energy of creation as expressed in the abstract and in the garden. Movement, color, joy, darkness and light explode off the canvas. Beauty and randomness abound in an ongoing play. A moment of time is captured on the canvas with its magic and energy. In the creative energy of color and movement, there is also peace and quiet. From my soul to yours.
In the garden, there are an infnite number of shapes and shades inspiring my imagination. It is that mind/heart/spirit synergy that fuels these paintings and monotypes. Nature's energy and growth gives me joy! And, the garden to me is symbolic of all of God's creation, including man and animals, living together in cooperation and ever-changing movement within the whole.
I returned to Asheville, NC from Denver, CO, drawn by the nurturing quality of the land and friendliness of the people. Here, among the trees and natural beauty of the mountains, I am continually inspired.  Different media (painting, sculpture, jewelry) vie for my attention.  These paintings are a joy to create.
303.623.3703
paintings, jewelry and sculpture to soothe the soul