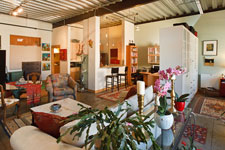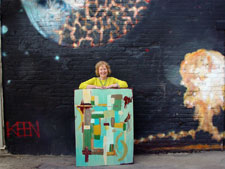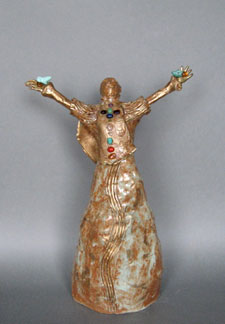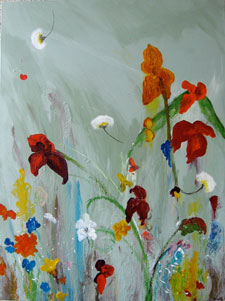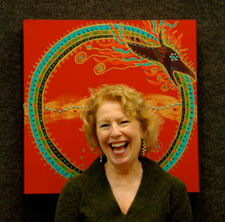 The Winding Path of Artist, Michelle Soule'

by Ginny Abblett

Michelle Soule' pushes soft blond hair from her eyes as she bends over her worktable in her 910 Arts loft on Santa Fe Drive. This small space, carved into a niche next to her exquisite living area, is a spot for her skilled hands and imagination to make magic. Surveying the living section of her loft one readily recognizes that it is a tribute to her life's journey. Meditating ceramic angels and monks sit on a small table as floral paintings soar and dance with color and energy on the walls. A glass jewelry case tastefully displays necklaces created with Soule's fine eye from Balinese, sterling and semiprecious stones. Glancing to her outdoor balcony, one sees some of her unique "collectibles," a low mosaic table, the quiet presence of a Buddha statue, plants gently flowing over the scene in summer months.

She counts as her previous geographic locations: New York, Chicago, Texas, New Mexico, North Carolina, California, and now Colorado. She wasn't just "traveling through," instead putting down stakes in all these places, making friends with good people and her artist's muse along the way. Soule's path continues to be quite a ride, not for the faint of heart, yet her insistent artist's inspiration continues to nudge her life choices.

It began in Westchester County, New York where she was the oldest of five children. Art was not an emphasis in her household, Soule' explains, though her father did become an art dabbler in his later years. Michelle's mother was a people person and consummate entertainer, which may explain why Michelle possesses these skills in abundance. Martin O'Brien, her great grandfather, counted Winslow Homer among his represented artists. He was a visionary who opened Chicago's first art gallery in 1850 which became one of the oldest family owned and operated galleries in the United States. The gallery remained in Chicago until 1941, closed during the war, resumed operation in Scottsdale, Arizona in the 1950's, and continued as an artist and patron mecca into the 1980's.

Kicked along her path by a huge wanderlust and perhaps O'Brien's inspiration, Soule' went to college in Lake Forest, Illinois, then moved to Manhattan for three years to work first for a non-profit and then a large advertising agency. From there a former roommate urged her to move to Houston during the oil boom of the seventies, and she jumped into the action, reveling in the energy of a flourishing city. There she married and after several years they moved on to Jupiter, Florida. Soule' was hired by John Payson, who owned Hobe Sound Gallery and experienced her first connection with the drumbeat of the art gallery world. Payson had inherited Van Gogh's "Irises," and consequently Michelle was caught in the tailwind of that incredible sale at Sotheby's for $53.9 million, the largest purchase price for an art work up to that point. Now that her art feet were wet she found herself traveling throughout Florida, Maine and back to Manhattan to select and sell art for Payson in his contemporary art galleries.

She resided in Florida for nine years and then moved to Santa Fe after a divorce from her husband, again gravitating to gallery work. Art patrons loved the jewelry she wore and wanted it for themselves. Using precious and semi precious stones, gold and silver, she taught herself to fashion exquisite necklaces and earrings and supported herself with her earnings. From Santa Fe she moved on to the arts and craft mecca of Asheville, NC, where she continued creating and marketing her jewelry, fell in love with raku firing thus ceramic sculptures of angels and goddesses began to emerge. Next, it was off to the bay area of California where family members lived, and she continued to work in galleries and create jewelry. She found that she wanted to paint and gradually became fluent in this other genre, and after ten years moved to Denver where she resides in the Santa Fe Art District, painting, sculpting and designing jewelry.

Soule' points out that there were challenges along the way, not the least being the huge economic downturn which began in 2008 just when she moved to Denver. Jobs were scarce, people were leary of buying most anything with art being the last thing on their minds. Michelle perservered, and created a mecca in her 910 Arts loft with her artistic voice continuing to urge her on, and she began to paint joyous semi abstract gardens, with her sculpture and jewelry providing a beautiful backdrop to her life.

Soule's positive attitude and transcendent smile are all a part of her. Come visit Michelle in her exquisite loft at 910 Arts on Santa Fe Drive, take time with the angels, her soaring paintings, unique jewelry, and most of all this woman with amazing stories to share. She is open by appointment at 303-623-3703, and on First Fridays from 6-9pm. Her jewelry is also on display at Eccentricity in Cherry Creek.